■Local revitalization program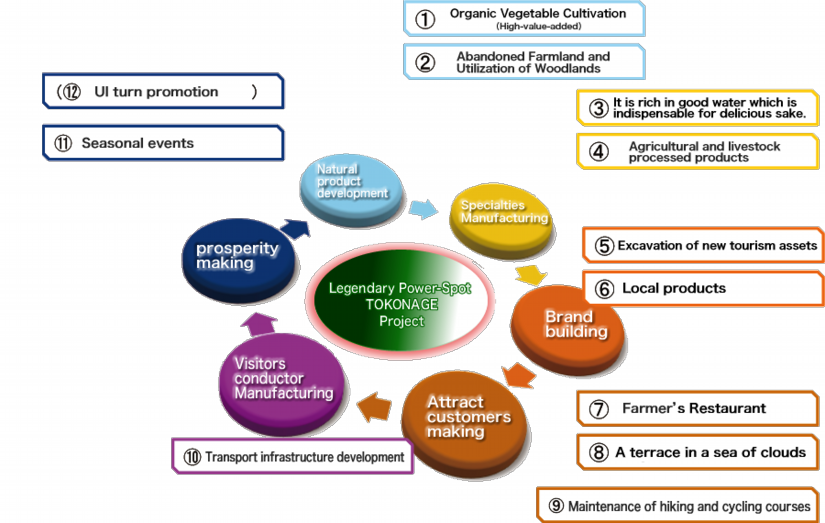 (High-value-added ) Organic Vegetable Cultivation
●The market price does not affect TPP's growing of organic vegetables.
The high-value-added organic vegetable farming requires advanced technology, time, effort and money.
We grow efficient and effective produce with the new natural farming and energy-saving "Eco Green House."
2)Abandoned Farmland and Utilization of Woodlands
●We will imitate the "leaf business," with the reproduction of a depopulating and aging town.
Kamikatsu-cho, in Tokushima prefecture, is known for "the elderly working, living & earning money," and "the miracle of the town changes the bill to leaves," is the model of "the leaf business."
3)It is rich in good water which is indispensable for delicious sake.
●Good rice splendid for delicious brewing.
"Scenic beauty"=demonstrated in sake making is the fact that "the beautiful, natural landscape is clean."
Rich in good water which is indispensable for delicious sake, in conjunction with good rice (brewer's rice) from a natural, rich land is the image of "the legendary power spot ~TOKONAGE~" with it's specialty products.
4)Agricultural and livestock processed products
●From the raw material production to the finished product!!
Production of crops (buckwheat, chicken) and natural materials such as edible wild plants and wood found in the woodlands.
Manufacture of processed products, such as "buckwheat," "chicken," "deer meat," and "charcoal" are some of the specialties.
5)Excavation of new tourism assets
●Taking advantage of the once-thriving "Kameoka ceramics" reconstruction and using the regional asset of "famous water."
In particular the implementation of pottery sales and ceramic art experience by resurrecting and activating of Kameoka ceramics.
The sale of the bottled famous water to various places.
To introduce the famous water to the rest of the country by creating a "museum of the spring water." (tentative name)
6)Local products
●Branding a place name, such as "TOKONAGE" and "Rokuya" to use in products!!
Easy distribution with the place name on the products to a lot of people. Using the name"~TOKONAGE~"to harvest vegetables.
For example:such as specialized vegetables and "TOKONAGE carrots,""TOKONAGE handmade buckwheat," "TOKONAGE brown rice bread."
7)Farmer's Restaurant
●In old houses, pleasant hospitality in providing food using local, fresh ingredients!!
In the unique landscape and natural environment of the woodlands, it provides a comfortable and familiar taste.
With the warm atmosphere and hospitality of the farmhouse restaurant, it brings a fresh but surprising nostalgic feeling.
In addition, the deployment of such restaurants and cafes will be utilized in a "Trailer House."
8)A terrace in a sea of clouds
●To promote region-specific assets such as the sea of clouds.
n a limited time, a mysterious, sea of clouds can be experienced on the terrace.
9)Maintenance of hiking and cycling courses
●Development of model courses around the historic sites in the natural environment!!
We will make signs with global representation (multi-language specific) and have specific places for rest areas.
10)Transport infrastructure development
●A community bus installation will help access to the "legendary power spot ~TOKONAGE~"!!
There will be direct access or by community bus from JR Kameoka Station.
11)Seasonal events
●The legendary power spot ~TOKONAGE~ " will hold its own seasonal legendary events!!
"Harvest Festival," "Flower Festival," "Animal Festival," etc., will be held each season to attract customers.
〔 12)UI turn promotion 〕
●U-turn, I turn, bring people back who have gone to out to the city or other regions!!
A new Kameoka attractive for local revitalization towards the outside of regional information transmission.